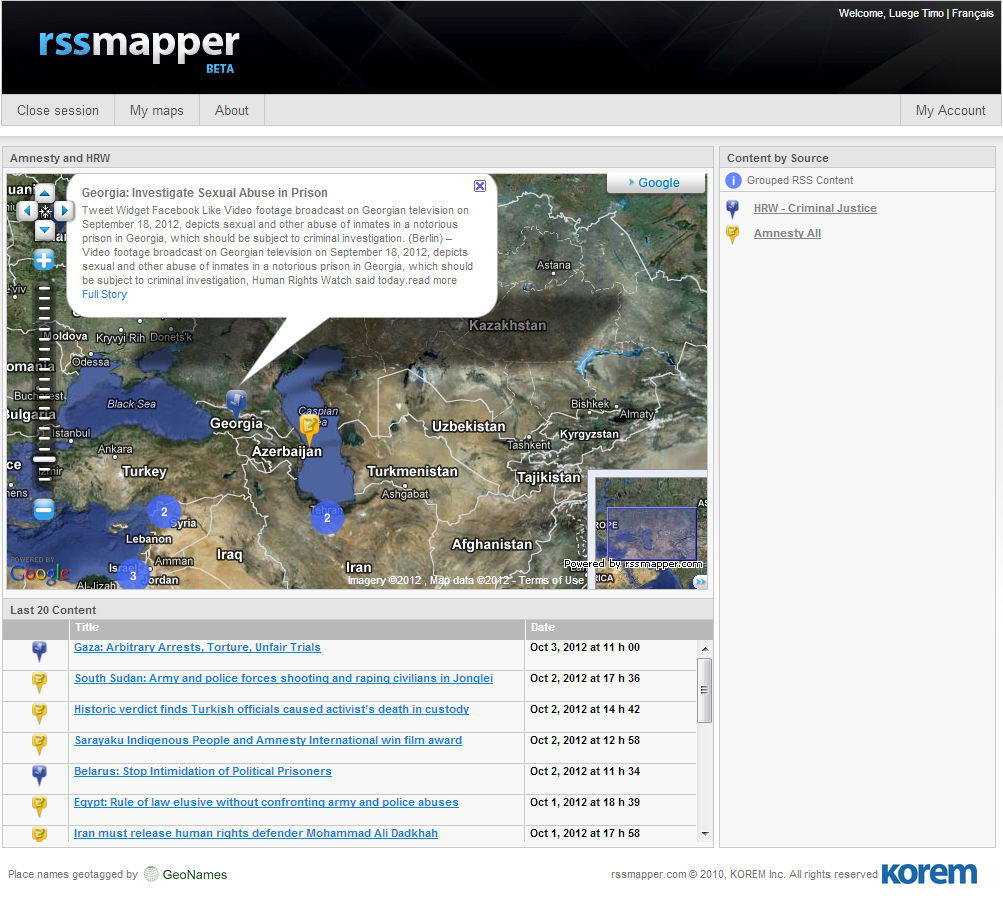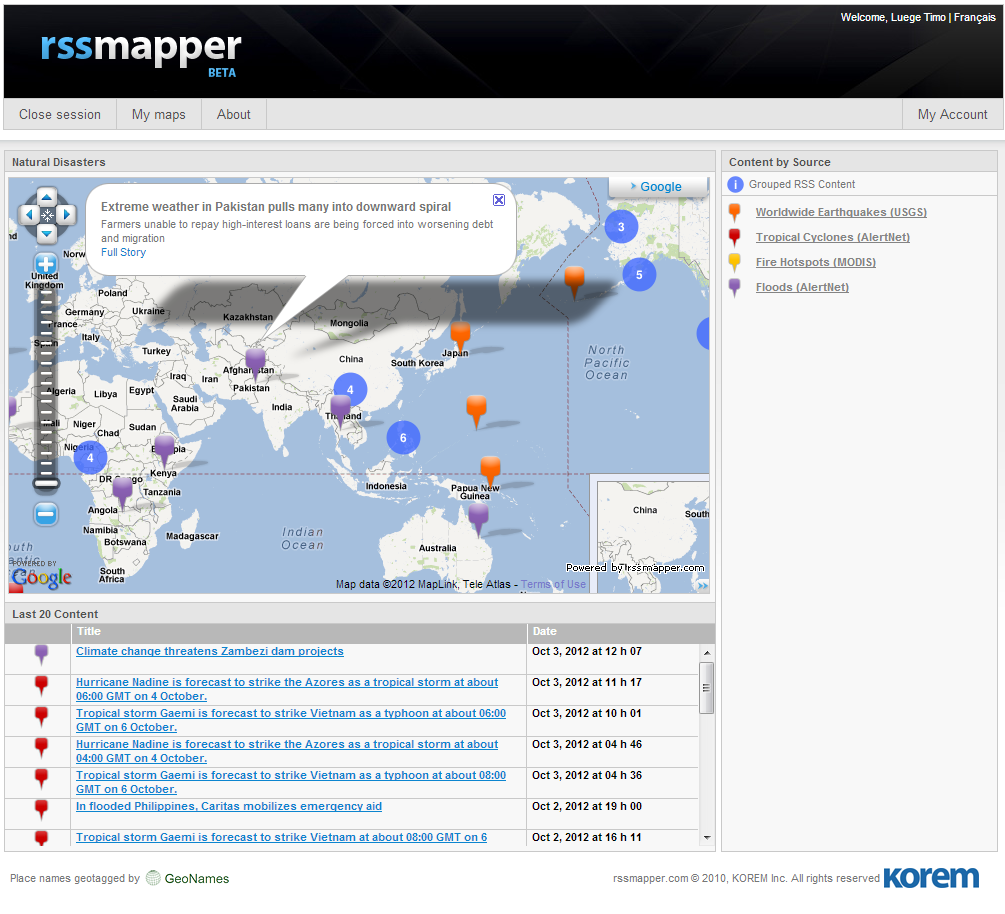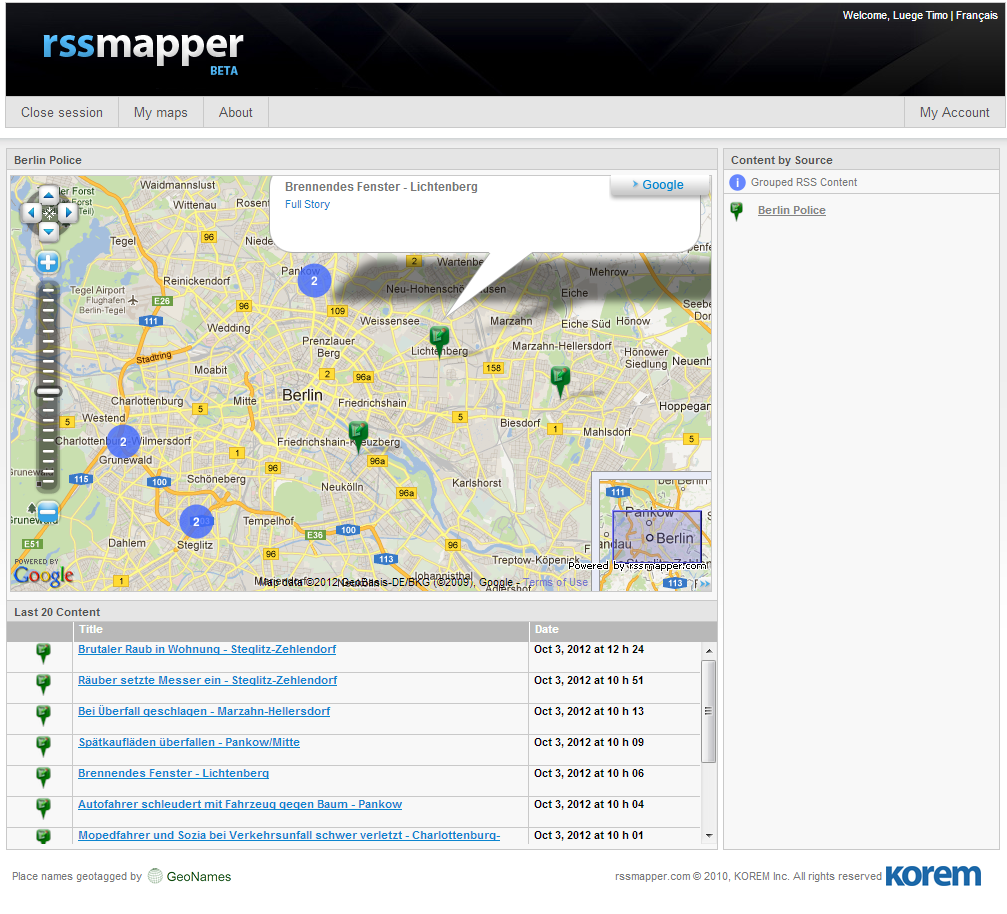 A free web service that automatically maps news from any Rich Site Summary (RSS) feed. The only condition is that the news item or blog post must contain a location in the text of the RSS feed that Google Maps can recognize. The output can be embedded in any website or blog.
Rssmapper is extremely easy to use and after registration it only takes a minute or two to set up a new map. The nice thing about Rssmapper is, that you can add multiple RSS feeds to a map. Each feed can be colour coded so that you can easily see which items come from which source.
When you hover over or click on a marker, you will see an excerpt (normally the first paragraph) of the news item and you can then decide to click through to the original article. In addition the last 20 items are also listed in chronological order underneath the map.
Since Rssmapper uses Google Maps, you can choose between map, satellite and terrain view. And while the interface of Rssmapper is only available in English and French, the service officially accepts news feeds in Spanish, French and Italian. Other languages might work as well and it is certainly worth trying.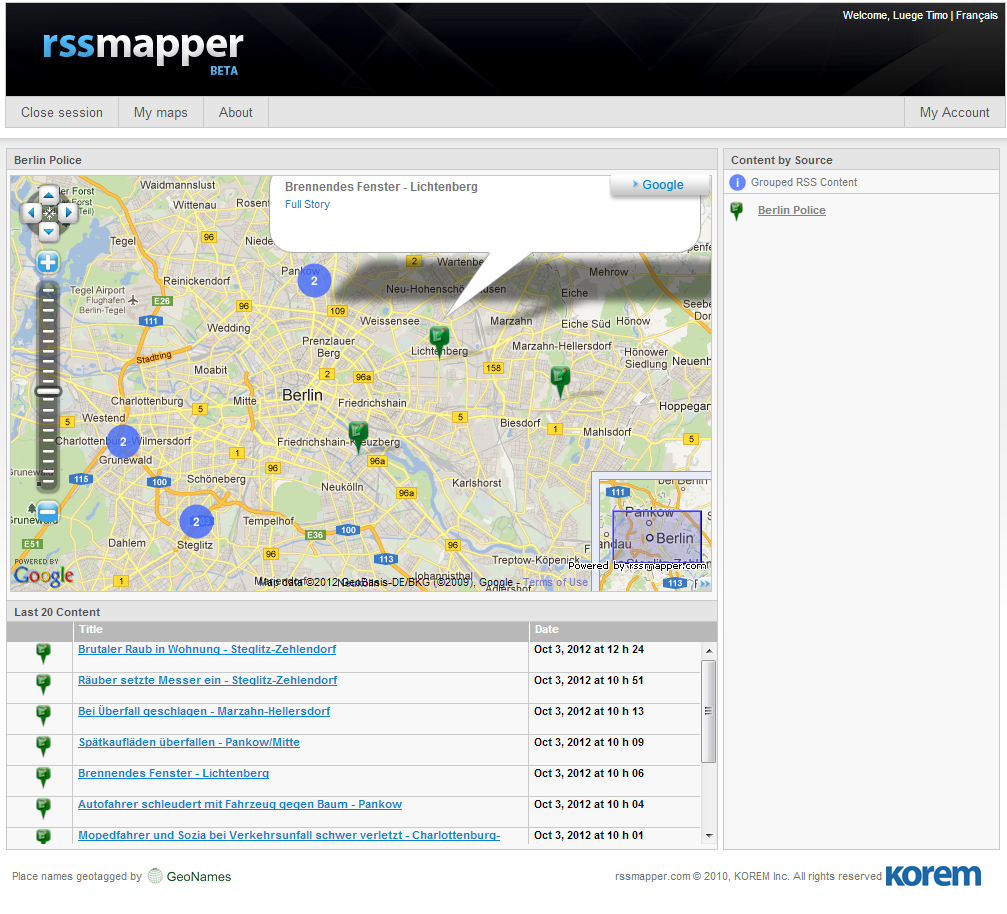 many people are primarily interested in information from a specific country or city and Rssmapper makes it extremely easy to show your - or someone else's - information on a map. In doing so, Rssmapper will be as precise as the location information in the RSS feeds. This can be a country, a town or a part of a city – basically anything that Google Maps will recognise.
RSS feeds that don't have location information with every news item. These will not show up on the map at all. So, if you are using Rssmapper to show your own news on a map, make sure to always include the location, even if it's obvious to your audience. Unfortunately, it is not possible to customize the map icons, which means you are restricted to seven colours and three different types of markers.
After logging in, you create a map with a new name and then simply copy and paste the internet addresses of the RSS feeds that you want to appear on the map. Each feed can have a different icon on the map. To embed the map on your own website or blog, you then have to copy the embed-code that is generated automatically by Rssmapper.
Rssmapper is hosted on the servers of a private company which unfortunately means you have no control over what happens with your data. On the other hand, since Rssmapper can only process public RSS feeds, it is unlikely that you will use it for sensitive data. All maps are public to anyone who has the exact internet address, but Rssmapper does not have a search function, so your maps enjoy at least a limited amount of privacy.