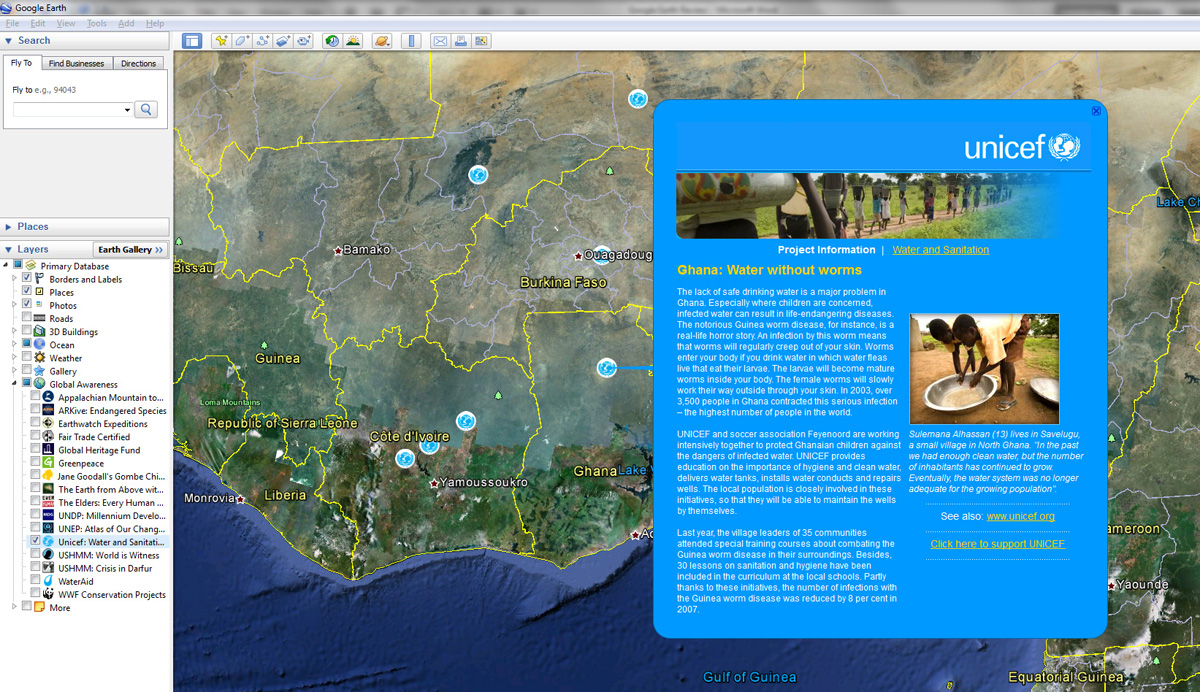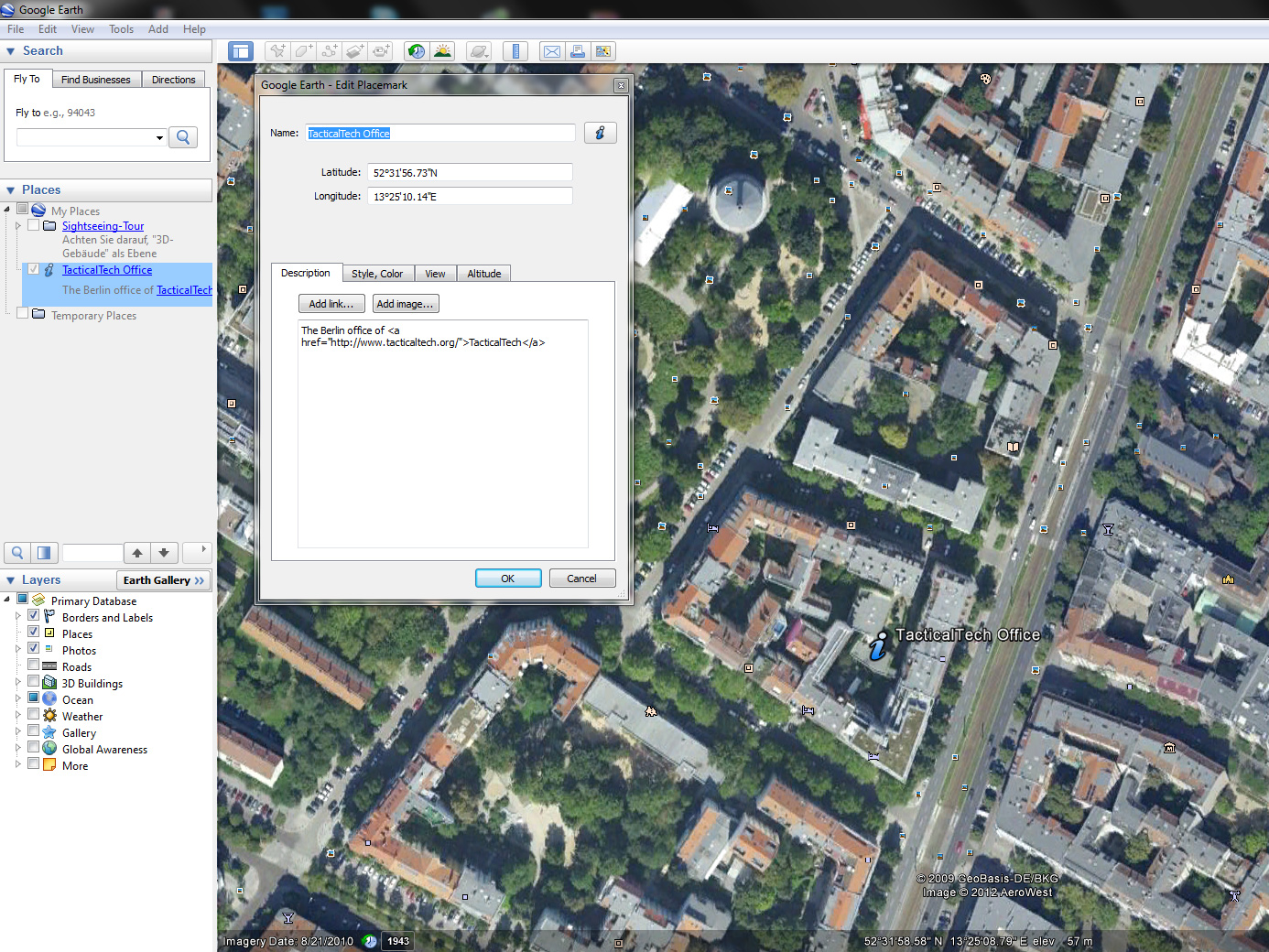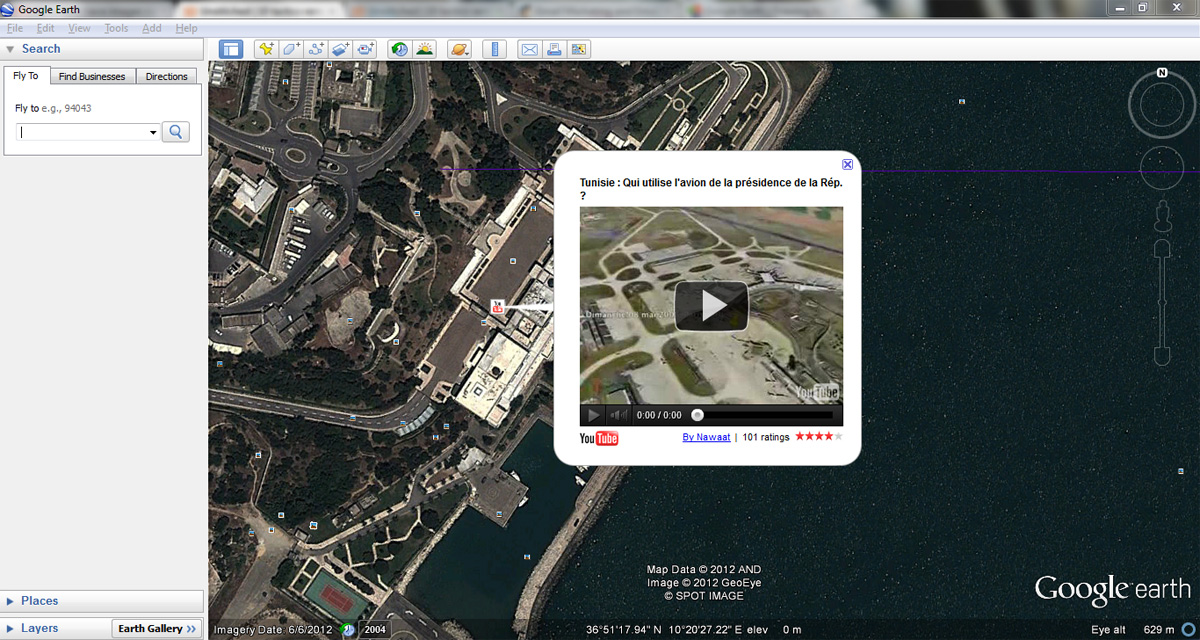 Google Earth is a free desktop application that allows you to view a three-dimensional map of the world, add your own information to the globe and explore information that others have added. There are almost no limits to the kinds of information you can use to enrich Google Earth. You can add text, images, video and audio. You can colour areas and even add three dimensional buildings to the map. You can share your visualisations as compressed files or create narrated guided tours.
Unfortunately, the quality and resolution of the images is not the same across the world. While all capitals and most high-income countries can be explored in detail, rural areas, especially in low-income countries, are frequently blurry. However, Google frequently buys additional satellite imagery if an area suddenly become more interesting to the general public, such as the border regions of Syria for example. In some cases, Google Earth also contains historical satellite imagery that allows you to see changes over time, such as environmental degradation, large scale migration (see the example from Sri Lanka below) or the effects of a natural disaster.
Google has created a vast array of tutorial and documentation for Google Earth, which make it easy and fun to learn the different aspects of the software. It is free and contains enough functionality for most organizations. However, if you need advanced features, such as Geographic Information Systems (GIS) import then you might need to upgrade to the rather expensive Google Earth Pro. The good news is that Google offers free licenses of Google Earth Pro to non-profit organizations through a grants programme. You can even apply for developer grants which means that Google might pay for a developer, if you have a particularly interesting and sophisticated project, but don't have the resources to make it happen.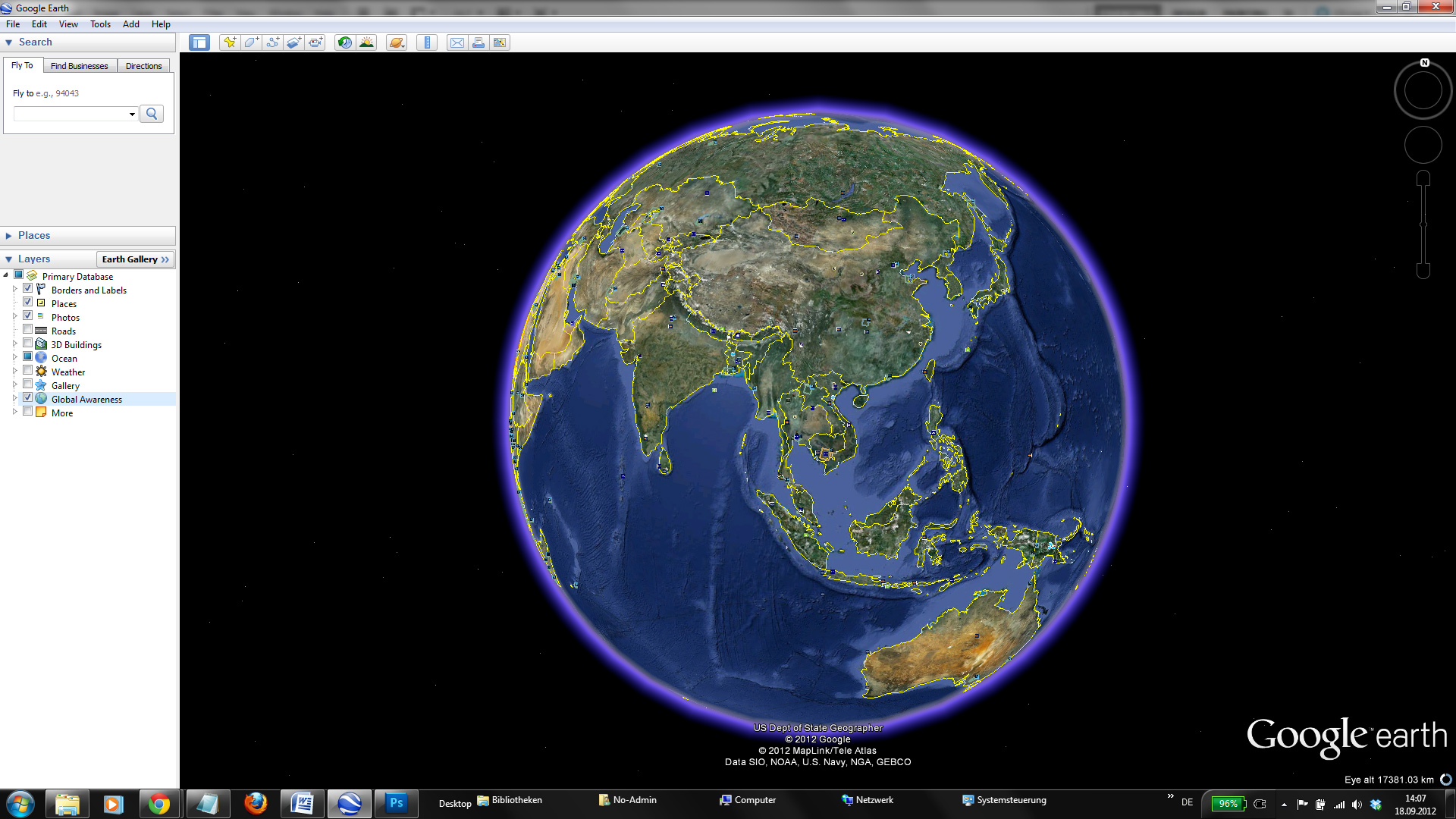 even simple visualisations with Google Earth look impressive. This is also the reason why so many news organisations use Google Earth on TV.
trying to use Google Earth offline. While it is a desktop application, most of the data is stored online. There are ways to cache small amounts of data on your computer, but Google Earth is really meant to have an internet connection at all times. If you want to show a Google Earth project to an audience where you might not have an internet connection you are probably better off creating a movie with the built-in moviemaker if you have Google Earth Pro installed.
Another disadvantage is that your audience needs to have Google Earth installed on their computers to download and open your Keyhole Markup Language (KML or KMZ) file to enjoy your visualisations. While Google offers a way to embed the animations into web pages, the plug-in frequently crashes and many people won't be able to install it on their machines.
All of this makes Google Earth less useful for reaching out to large groups of people and more suited for targeted presentations or for the media. In these settings it can be highly effective.
Yes, you use it on a desktop but you need internet connectivity.
Google Earth can be as simple or as complicated depending on what you need. You can start by simply clicking on the globe and adding markers. To add your own popups with text, images or even YouTube videos, you add HyperText Markup Language (HTML) directly to the properties of those markers. Unfortunately, this part of the process is not very user-friendly and it's far more convenient to create the code in a separate HTML editor and then copy and paste it into Google Earth.
You can also link Google Earth visualisations to Google Spreadsheets so that data gets updated dynamically. If you want to use Google Earth for a presentation you can even record a narrated "Guided Tour" from within the application.
CSV, Direct entry, Google Fusion Tables, Google Spreadsheets, HTML, KML, KMZ and XML. 
Arabic, Brazilian Portuguese, Chinese, English, Farsi, French, German, Japanese, Russian, Spanish and Vietnamese. 
Your use of Google Maps is governed by Google's standard Privacy Policy and Terms of Service. All KML or KMZ files that you create with Google Earth are saved on your computer and you have full control over where you want to publish it. Portability is not a big issue since the KML files can be opened with HTML and text editors.