By Maya Indira Ganesh and Morana Miljanovic, 15 October 2014
 Many activists and advocacy groups we talk to are not entirely sure why they should care about big data. What does it mean for our community?
Academics, think tanks, journalists and bureaucrats have been writing a lot about it. We also started finding and sharing the work of writers, artists and cultural producers who use their practice to represent and comment on what it means to live in such data-dense times. 
Much of this is interesting but we often found ourselves struggling to separate opinions from rants, and doomsday scenarios from empirical evidence. So, we thought we'd share a list of things that we found were accessible, critical and represented a range of actors talking about big data.
Admittedly, all of these recommendations are in English and are only reflective of our own interests. We'd love to see this list grow so if you have a suggestion for this list, let us know in the comments below. 
What is it and why should I care?
We can think of three reasons why activists and the advocacy community should care about big data: surveillance, prediction and transparency.
Big data is the computational ability of algorithms that read patterns in a universe of millions of clicks, links, sign-ins, 'likes', tags, pins, shares, follows and retweets. However, this is only data that is 'born digital'; big data is also 'born analog", which includes data that comes from sources offline and gets digitised, like voter registration or surveillance camera footage.
Big data is sometimes defined by the data industry in terms of its 3 Vs  - volume (there's a lot of it), velocity (it gets generated rapidly), and variety (it comes from a lot of different sources, it comes in different forms) [Note that there are alternative definitions that deploy, variously,  3 Rs, 3 Ps and  4 Ss].
However, these definitions do not tell you about what is new and controversial about big data: how data is inter-related and integrated, and how it can be used for as-yet undefined purposes.
The aim is to get nothing short of all the data you can possibly collect and cannot use at a present moment for a purpose that you do not know yet - but might know sometime in the future. Such a total approach in data collection allows the industry to "find" uses for data analytics outputs once the data is already collected and repackaged with the help of algorithms.
Big data is poised to get even more big with wearable tech, the internet of things and smart cities. From regulating how hot or cold you may feel by changing how your clothes react to the weather, to what's in your refrigerator, there is still more data waiting to be produced and mined.
Nathan Jurgenson writes that big data is heavily reliant on social media companies, which is where databases, algorithms and venture capital meet. Big data is also big business, and offers the simple and arrogant claim that the slippery mysteries of our bodies, selves and social dynamics can be known through a business model.
However, technology companies are not just about creating the tech or the business model that make big data possible.
We now know about the surveillance of all our digital communications thanks in part to Edward Snowden and others. Big data technologies perpetuate mass surveillance because nearly all the technical infrastructure and software that powers the internet, and the laws that govern them, are essentially maintained at the behest of the American government through American telecommunications companies, and their partners in the UK, Canada, New Zealand and Australia.
One of the ways in which big data is 'sold' commercially is through the idea that it provides a deep 'understanding' of customers. In the business world, this is believed to help target products to certain kinds of customers based on what they're imagined to want to buy. 
In the development world, organisations like the UN Global Pulse will monitor and predict outbreaks of disease, unemployment or the effects of natural disasters by looking for connections and patterns in everything from mobile-phone-based cash transactions to tweets about the price of onions. In Singapore, they've been using big data methods and analytics for more than ten years to identify diseases and more recently, to promote social harmony. 
Looking for patterns between things in data is resulting in predictions of large-scale outbreaks and conflicts too.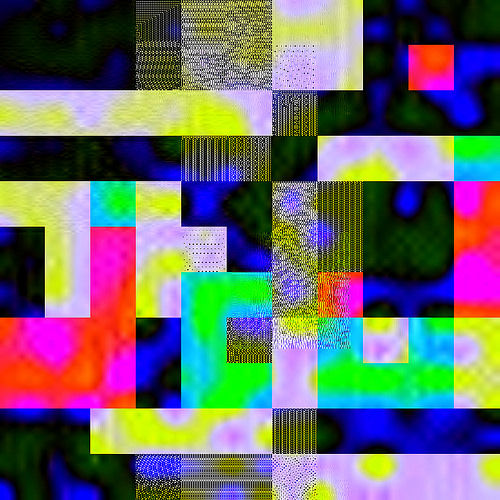 'Dithered JPG macroblocks' by Rosa Menkman 
If things can be predicted, that means things must be known.
Knowing everything, complete and total transparency is the dubious promise of big data. This bright light that big data promises to shine on all aspects of our lives may seem to encourage transparency but also jeopardises privacy.
This tension is epitomised by the different and opposing positions between two fields of work: the open data and open knowledge initiatives and technology for transparency projects which are about visibility and publicity for public information and processes; and the 'data rights' discourse which tends to be about anonymity, the right to privacy and control over personal data.
While anonymity and visibility are not polarities or contradictory – there is no reason that activists and rights advocates should not be able to demand both for different things – they are closely related concepts and one directly affects the other.
Knowing how big data works is a small but vital first step in understanding how to subvert its claims. We hope this list sparks more questions and curiosity for you. Happy exploring.
Articles
Big Data, Big Questions: The Smart City Movement, Alex Marshall, published in Metropolis, February 2014. 
Are you ready for the era of Big Data?, Steven Poole, published in New Statesman, May 2013.
Quantify Everything: A Dream of a Feminist Data Future, Amelia Abreu, published in Model View Culture, February 2014. 
State-Owned Gold Mine: What Happens When Governments Sell Data? Gabe Stein, published in Fast Company, June 2013. 
The Anxieties of Big Data, Kate Crawford, published in The New Inquiry, May 2014. 
Artists' Works
Timo Toots created Memopol a machine that maps the visitor's information field.  
PRISM: The Beacon Frame by Julian Oliver is a speculative, functional response to the general absence of information as to what NSA PRISM equipment actually looks like.
'A Quiet Disposition' by James Bridle is a tool for researching public news and information about Unmanned Aerial Vehicles (drones), in military and some civilian contexts. 
A comic by Michael Keller and Josh Neufeld, Terms of Service: understanding our role in the world of Big Data.
Paolo Cirilio's projects Face to Facebook and 'Street Ghosts' - where life-sized pictures of people found on Google's Street View were printed and posted without authorization at the same spot where they were taken.
An image from Paolo Cirilio's 'Street Ghosts' project. 
Academic writing & research
Hildebrandt, M.: Profiling: From Data to Knowledge : The challenges of a crucial technology, Datenschutz und Datensicherheit 30 (2006) 9
Crawford, K., Miltner, K, Gray, M.L, Critiquing Big Data: Politics, Ethics, Epistemology, Special Section Introduction , International Journal of Communication 8 (2014), pp 1663–1672
Richards, N.M, King, J.H., Three Paradoxes of Big DATA, 66 S TAN . L. R EV . O NLINE 41 , September 3, 2013
Tufekci, Z, 2014, Engineering the Public: Big Data, Surveillance and Computational Politics , First Monday, Volume 19, Number 7
Gillespie, T. (2013),The Relevance of Algorithms, forthcoming in Media Technologies: Essays on Communication, Materiality, and Society, ed. Tarleton Gillespie, Pablo Boczkowski, and Kirsten Foot. Cambridge, MA: MIT Press
Tene, O. and Polonetsky, J, Big Data for All: Privacy and User Control in the Age of Analytics, 11 NW.J.TECH.&INTELL.PROP.239 (2013)
Ohm, P., 2013, The Underwhelming Benefits of Big Data, In response to Paul M. Schwartz, Information Privacy in the Cloud, 161 U. PA.L.REV 1623 (2013)
van Dijck , José, Datafication, dataism and dataveillance: Big Data between scientific paradigm and ideology, Surveillance & Society 12(2). 
Books (Fiction)
A racy, easy-read, The Circle by Dave Eggers, about a fictional company in California that has the most far-reaching social network  and a review of it by Margaret Atwood.
The works of science-fiction writer Philip Kindred Dick. Watch this video of Dick, in 1977, suggesting that we live in a computer simulation. 
Books (Non-fiction)
Liquid Surveillance: A Conversation by Zygmunt Bauman and David Lyon,  Polity Press, November 2012. 
To Save Everything, Click Here: Technology, Solutionism, and the Urge to Fix Problems that Don't Exist by Evgeny Morozov, March 2013
The Daily You: How the New Advertising Industry is Defining Your Identity and Your Worth by Joseph Turow, Yale University Press, January 2011. 
Profiling the European Citizen, edited by Mireille Hildebrandt and Serge Gutwirth, Springer, 2008. 
Reports and White Papers
The Social, Cultural and Ethical Dimensions of "Big Data", summary of an event by Data & Society Research Institute, March 2014. 
Big Data: Seizing Opportunities, Preserving Values. A report from the White House, May 2014. 
Big data and positive social change in the developing world: a white paper for practitioners and researchers. Rockefeller Foundation Bellagio Centre conference, May 2014. 
Hollywood Movies
Gattaca a film by 1997 by Andrew Niccol, where fixing identities and 'quantifying' your potential are based on eugenics. One's prospects in life are determined at birth and biometric checks are used to identify the "valids" who have access to employment and social services that "in-valids" are denied.  Another method of fixing your identity and potential is big data mining. Your ambition of getting a job, education, medical care or new shoes may be thwarted by profiles produced by algorithms.
Minority Report, the Hollywood movie based on the book by Philip K Dick, about 'pre-cognition' of a crime and using that knowledge to stop it before it happens.        
Videos
The Uses and Abuses of Big Data. Panel discussion at Transmediale, Berlin, January-February 2014
Breakup call to the NSA /'Home' by Holly Herndon, directed by Metahaven, September 2014.
Holly Herndon - Home [Official Video] from RVNG Intl. on Vimeo.
Image credits: Header image is taken from the project Projector Snow, where videographer Brian Maffitt pointed a video projector out of a window in a blizzard in New York in 2013. 
Maya Indira Ganesh is the Director of Applied Research and Morana Miljanovic is a Programme Researcher at Tactical Technology Collective. Thanks to our colleagues for their contributions.